How does the Ann Chery sizing on our site works?
Once you have chosen your Waist Trainer model it is time to determine your size. 
With every Waist Cincher on our site you will find the Size Chart. These charts are only suitable for the Original #1 brands Waist Trainers like Ann Chery we sell online.
The sizes on this site are the Colombian sizes as you will find these on the product packages. On average there are 2 sizes in difference between European and Colombian sizing. 
Is your clothing size in Europe a size then mostly you are able to fit a size L/36 Waist Cincher of the Ann Chery brand. But this only is the case when you already have an hourglass figure. We woman come in all different sizes and shapes and that is why using our Sizechart a must!
IMPORTANT: When you owned a other brand Waist Cincher before (or maby you even owned a fake Waist Cincher) the sizing is totally different then the sizing that Ann Chery runs by. Always use the Sizechart and/or our help.
The correct size for the hooks & eye model Waist Cinchers: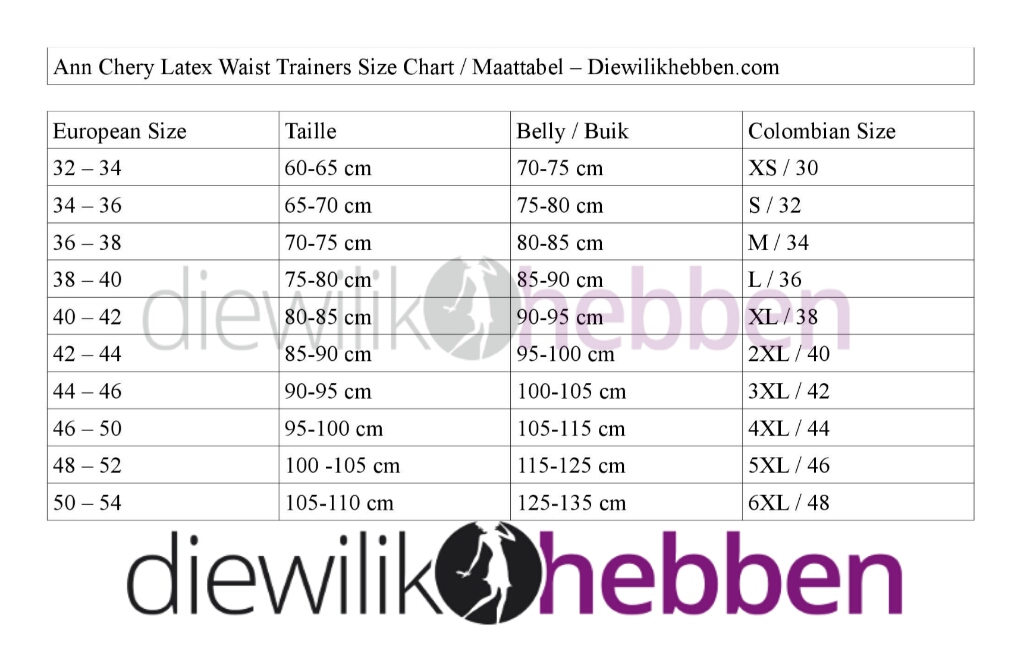 The right size for the Latex Fitness Belt:
Simply choose your European size and then the size for your Fitness Belt. In between two sizes? Both will fit, if you think you will loose some weight very soon for example then choose the smallest.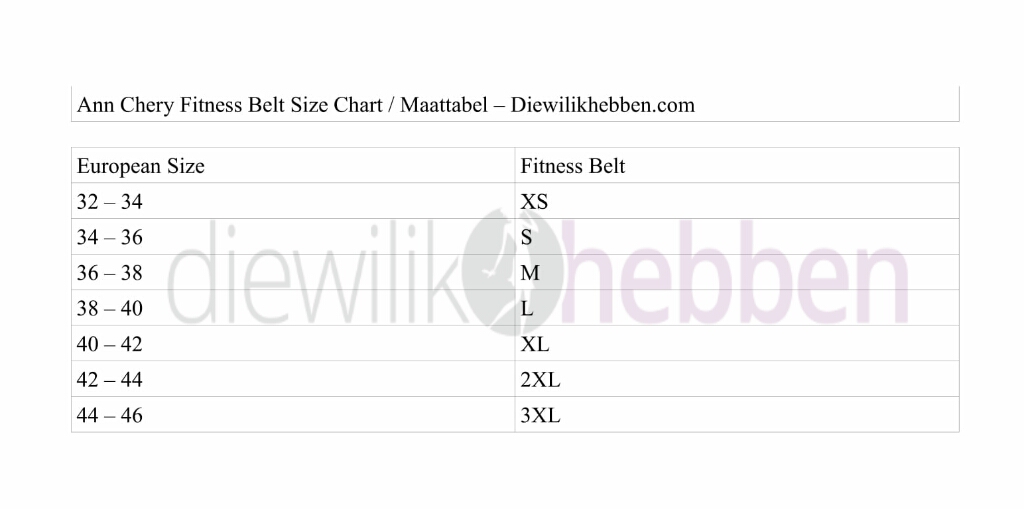 Still in doubt about your size? Just send us a message through our online Chat, E-mail, contactpage of Whatsapp (+31638397471).
Make sure you have all the measurements for us ready so we can help you as fast as possible and adjust the supply for you. And of course ship out to you immediately.
With all this extensive information and our speedy Customer Service there is no need for you to doubt anymore. In the unexpected case that the size is not right you will be able to make unwedded use of our Exchange Policy.


With over 8 years of experience in advicing we know a lot but not everything. Complaints regarding to our advices are not allowed. We provide a service en do this with the best of our love, experience as far as our knowledge reaches. Our advices are based upon the correct measurements of our customers, questions we ask and the answers we are provided with and any pictures we receive.